(Italiano) A Sassari nell'ambito dei festeggiamenti per il Centenario, l'ISPAAM partecipa a "La Ricerca del CNR incontra la città"
---
BISBA-IT meets in Naples to showcase the projects selected in the first national access call and reaffirm the political and financial support of the Ministry of University and Research.
On May 3 rd (2023), the Institute for the Animal Production System in the Mediterranean Environment ‐ ISPAAM participated in the meeting of the Italian national node IBISBA‐IT which took place on the occasion of the IBISBA Spring meeting held during the week. IBISBA‐IT (www.ibisba.it) is the first Italian Research Infrastructure (RI) for Industrial Biotechnology that uses modern scientific approaches, including 'omics' sciences, bioinformatics, molecular engineering, and bioreactor technologies, to develop new enzymes, proteins, biotransformations, and bioprocesses. The infrastructure is made up of ten partners, including four DiSBA‐afferent CNR Institutes (IBBR‐UOS Napoli, ISPAAM, ISA and IBBA), five Universities (UNINA, UNIBO, UNINSUBRIA, UNIMIB, UNITUSCIA) and the FIIRV foundation. After the customary opening greetings, Dr Beatrice Cobucci Ponzano, Researcher at the CNR Institute of Bioscience and BioResources of Naples and Coordinator of the Italian node, introduced IBISBA‐IT and commented: "IBISBA‐IT is on the Italian Roadmap of high‐priority RIs and has received funding from the Ministry of University and Research (MUR) since 2019. Currently, the infrastructure is involved in two nationally funded projects: REPLAY (REconnecting PLAstics life cycle to biogeochemical cycles by sustainable hydrolysis and Yeasts fermentation) and ITINERIS (ITalian INtegrated Environment Research Infrastructure System)". REPLAY is a Research Project of Relevant National Interest (PRIN) coordinated by Prof. Paola Branduardi (UNIMIB) and developed in collaboration with UNINA (Prof. Marco Moracci) and UNIBA (Prof. Gennaro Agrimi). The project aims to convert PET into organic acids using yeasts and synthetic biology, biochemical and bioprocess engineering. ITINERIS is funded by the National Plan for Recovery and Resilience (PNRR) and aims to build the Italian Hub of RIs in the environmental scientific domain to observe and study environmental processes in the atmosphere, marine domain, terrestrial biosphere, and geosphere. The project is coordinated by Dr Gelsomina Pappalardo (CNR‐IMAA), involves 22 Italian RIs and has received funds for over €155 million, with €5 million allocated to IBISBA‐IT. The event also showcased research projects selected within the first IBISBA‐IT national access call launched for CNR applicants to gain funded access to the infrastructure services. The infrastructure users Mariaelena Di Biase (CNR‐ISPA), Francesco Gai (CNR‐ISPA), Mariacecilia Pasini (CNR‐SCITEC) and Maria Elena Russo (CNR‐STEMS) illustrated the impact and the scientific and technological excellence of their projects.
On a political note, the meeting boasted the extraordinary participation of Michael O'Donohue, European Coordinator of IBISBA (www.ibisba.eu), who exposed the current status of the EU‐IBISBA and commented: "I am truly impressed by all of the foundational work done. The Italian Node is organised, operational and growing". On the hand, honorary guest Mauro Bertelletti (MUR), remarked on the ministry's solid support for IBISBA‐IT: "IBISBA is a high priority for Italy".
For more information about IBISBA and its research activities, please visit www.ibisba.eu and www.ibisba.it, or contact:
Beatrice Cobucci Ponzano, IBISBA‐IT Coordinator
beatrice.cobucciponzano@ibbr.cnr.it
Mauro Di Fenza, Communication Manager
communication@ibisba.eu
Funded by the European Union
---
Il 19 Maggio, i Partecipanti al 5th IBF Training Course on Buffalo Management And Industry visiteranno l'ISPAAM
---
BANDO N. 400.2 ISPAAM PNRR
Selezione per titoli e colloquio ai sensi dell'art. 8 del "Disciplinare concernente le assunzioni di personale con contratto di lavoro a tempo determinato", per l'assunzione, ai sensi dell'art. 83 del CCNL del Comparto "Istruzione e Ricerca" 2016-2018, sottoscritto in data 19 aprile 2018, di una unità di personale con profilo professionale di Ricercatore a Tempo Determinato – III livello, presso l'Istituto per il Sistema Produzione Animale in Ambiente Mediterraneo – sede di Portici – Progetto PNRR – PE0000003, PE10 Modelli per un'alimentazione sostenibile, "ON Foods" – Research and innovation network on food and nutrition Sustainability, Safety and Security – Working ON Foods"
---
(Italiano) Il CNR apre le porte agli scolari delle primarie –Per il centenario del Consiglio Nazionale di Ricerche–
---
(Italiano) A Osilo la prima Scuola Sarda di Pastorizia
---
(Italiano) Centenario della fondazione del Consiglio Nazionale delle Ricerche: evento a Sassari
---
Give a selfie for women at CNR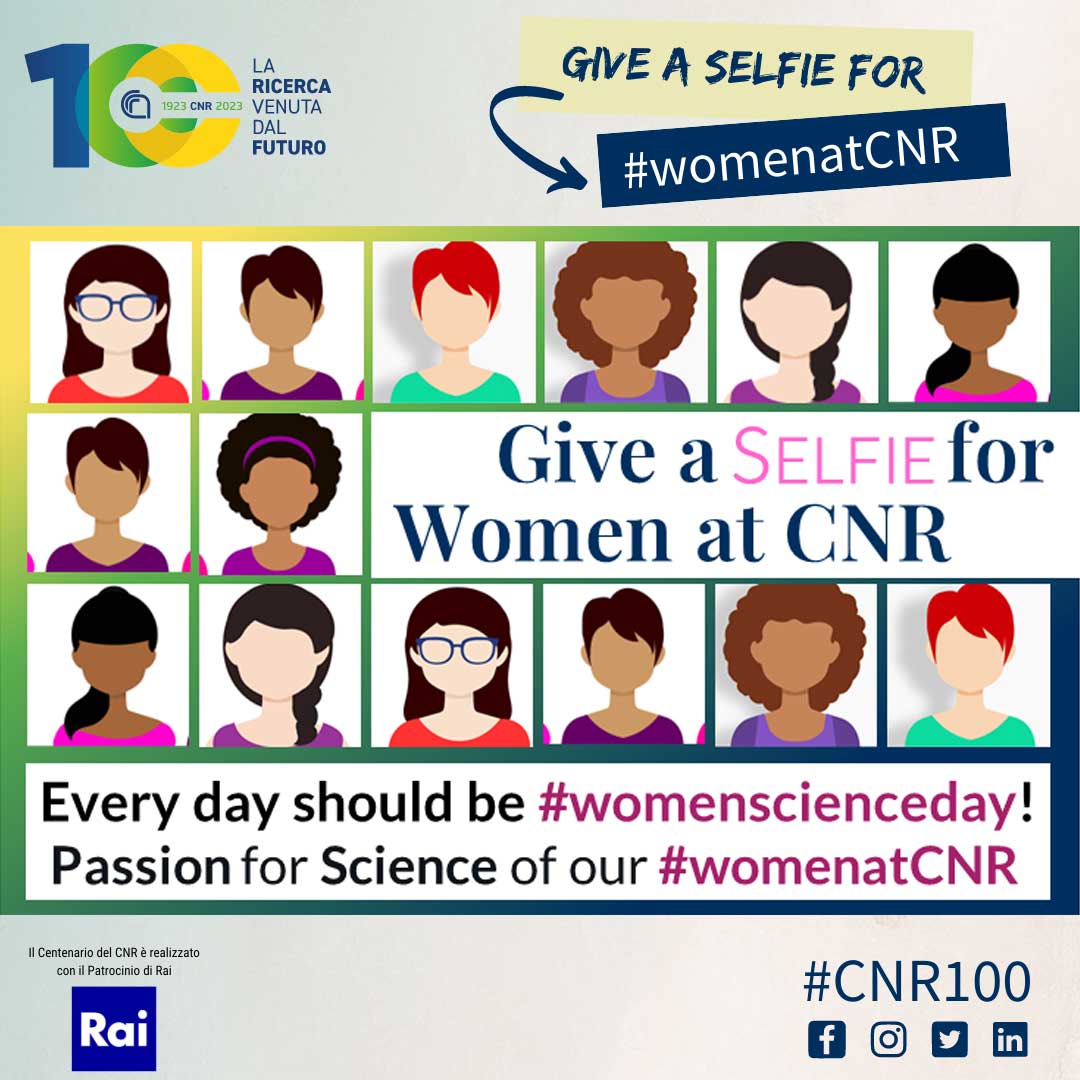 Una staffetta Cnr per celebrare la "Giornata Internazionale delle Donne e Ragazze nella Scienza" è l'iniziativa che prenderà il via il giorno 11 febbraio 2023 con lo scopo di sensibilizzare e traguardare gli obiettivi per il raggiungimento di parità di genere nella ricerca e nell'innovazione.
Tale iniziativa, titolata "Give a selfie for Women at Cnr"', ispirata da iniziative analoghe di altri centri internazionali di ricerca, è stata inaugurata l'11 febbraio 2022 dall'Istituto di scienze e tecnologie chimiche "Giulio Natta" (Cnr-Scitec) e si è sviluppata come campagna di promozione social con cadenza settimanale con il titolo di "Give a selfie for Women in Science". Ora, grazie alla partecipazione ed adesione della rete Cnr, ambisce a diventare una vera e propria staffetta virtuale in cui altri Istituti proseguiranno nel lavoro di valorizzazione della comunità al femminile che opera nell'Ente.
L'esperienza del Cnr-Scitec ha dimostrato come l'iniziativa, sostenuta da un'intensa attività di comunicazione trasversale, sia riuscita a coinvolgere molte donne dell'Istituto nell'intento di promuovere i contenuti e le capacità nella scienza e per veicolare un messaggio positivo alle ragazze interessate alle STEM (già diventate STREAM), al grido "Every day should be #womenscienceday". Al termine del suo percorso comunicativo, semplice ma di impatto, Cnr-Scitec ricompone il mosaico di tutti i volti delle donne che hanno aderito e contemporanemente sostiene la campagna social degli altri Istituti con il lancio dell'edizione 2023.
La ri-partenza viene segnata da un selfie d'eccezione, quello della della Presidente Maria Chiara Carrozza, autorevole testimonianza di donna e ricercatrice a capo di un ente di ricerca, in un anno fortemente evocativo quale il 2023 anno in cui il Cnr celebra il Centenario di vita. A seguito di questo selfie, l'iniziativa si arricchirà dei contributi di molte altre donne afferenti ai diversi Istituti che si riconoscono nell'intento enunciato e che si uniranno strada facendo raccogliendo il testimone.
Le donne che hanno aderito e che aderiranno a questa campagna social sono convinte che lo sviluppo economico, sociale, educativo e territoriale diventi completo se realizzato anche con un contestuale sviluppo della parità di genere nella ricerca e nell'innovazione. Questo pensiero è riportato anche nelle puntuali comunicazioni pubbliche dei vertici degli organismi di finanziamento e di quelli di controllo della ricerca internazionale (https://www.youtube.com/watch?v=nA7YdszDJ_0 – Ursula von der Leyen) oltre che ribadito nel Piano Nazionale di Ripresa e Resilienza. La recente introduzione di un piano per la parità di genere (GEP) quale criterio di ammissibilità nei finanziamenti del programma Horizon Europe (2021-2027) e la declinazione della dimensione di genere nei contenuti della ricerca e dell'innovazione inducono a sostenere tale approccio.
L'iniziativa "Give a selfie for Women in Science 2022" è stata ideata e proposta da Marcello Marelli e Laura Polito, entrambi ricercatori della sede di Milano del Cnr-Scitec. Il materiale raccolto, un "selfie" in lab o alla scrivania con una didascalia per descrivere il lavoro, viene diffuso tramite il sito e i canali social dell'istituto (Twitter e Instagram) con il supporto del Team Social presente su tutta la propria rete territoriale (Milano, Genova, Roma e Perugia), in quanto iniziativa perfettamente aderente alle attività di Terza Missione che l'Istituto ha attivato grazie ad una struttura dedicata.
L'11 febbraio 2023, dunque, il Cnr-Scitec passerà idealmente il testimone dando il via alla staffetta virtuale, per ricordare che every day should be #womenscienceday. Gli Istituti che vogliono aderire, al fine di mantenere omogeneità sia nello stile sia nel format, trovano in allegato un documento con consigli operativi sulle modalità di partecipazione.
https://www.cnr.it/it/news/11656/give-a-selfie-for-women-at-cnr-una-staffetta-per-celebrare-la-giornata-internazionale-delle-donne-e-ragazze-nella-scienza
---
BANDO N. 400.01 ISPAAM PNRR "Researcher III level fixed-term"
Selection by qualifications and interview pursuant to article 8 of the "Regulations concerning the recruitment of personnel with fixed-term employment contracts", for the recruitment, pursuant to article 83 of the National Collective Labour Agreement for the 2016-2018 "Education and Research" sector, signed on 19 April 2018, of a staff member with a professional profile of Researcher III level, at the Institute for the Animal Production System in the Mediterranean Environment – office headquarters Portici (NA), Italy
---
(Italiano) Lodè, BioVeg: Agroforestry e tutela della biodiversità nella Riserva di Biosfera