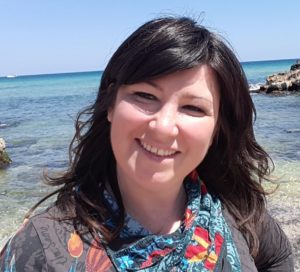 Researcher
Email: chiara.dambrosio@cnr.it; CNR PAGE: http://www.cnr.it/people/chiara.dambrosio
Phone: +390815966006
Fax:     +390815965291
Address: ISPAAM-CNR, Napoli, Via Argine 1085, 80147 Napoli
Education and Professional Experience
2008: Researcher
2002-2008: Research Fellows at ISPAAM-CNR, Napoli.
2001: Second level Degree in Chemistry, University of Napoli, Italy.
Keywords
Proteomics, Mass Spectrometry
Bio-agricultural Proteomics
Selected publications (max 20)
Santucci L, Candiano G, Anglani F, Bruschi M, Tosetto E, Cremasco D, Murer L, D'Ambrosio C, Scaloni A, Petretto A, Caridi G, Rossi R, Bonanni A, Ghiggeri GM.

Urine proteome analysis in Dent's disease shows high selective changes potentially involved in chronic renal damage. J Proteomics. 2015 Sep 11.

Succoio M, Comegna M, D'Ambrosio C, Scaloni A, Cimino F, Faraonio R. Proteomic analysis reveals novel common genes mediating both replicative and stress-induced senescence. J Proteomics. 2015 Jul 20.
Bruschi M, Candiano G, Santucci L, D'Ambrosio C, Scaloni A, Bonsano M, Ghiggeri GM, Verrina E. Combinatorial Peptide Ligand Library and two dimensional electrophoresis: new frontiers in the study of peritoneal dialysis effluent in pediatric patients. J Proteomics. 2015 Feb 26;116:68-80.
Salzano, A.M., Pauciullo, A., D'Ambrosio, C., Novi, G., Strazzullo, M., Scaloni, A.

Bovine hemoglobin polymorphism: A novel alpha-globin variant identified in the Agerolese breed from southern Italy. Czech Journal of Animal Science 2015; 60, (4): 145-151

Mastrogiacomo R, D'Ambrosio C, Niccolini A, Serra A, Gazzano A, Scaloni A, Pelosi P. An odorant-binding protein is abundantly expressed in the nose and in the seminal fluid of the rabbit. PLoS One. 2014 Nov 12;9(11).
Comegna M, Succoio M, Napolitano M, Vitale M, D'Ambrosio C, Scaloni A, Passaro F, Zambrano N, Cimino F, Faraonio R. Identification of miR-494 direct targets involved in senescence of human diploid fibroblasts. FASEB J. 2014 Aug;28(8):3720-33.
Bruschi M, Sinico RA, Moroni G, Pratesi F, Migliorini P, Galetti M, Murtas C, Tincani A, Madaio M, Radice A, Franceschini F, Trezzi B, Bianchi L, Giallongo A, Gatti R, Tardanico R, Scaloni A, D'Ambrosio C, Carnevali ML, Messa P, Ravani P,Barbano G, Bianco B, Bonanni A, Scolari F, Martini A, Candiano G, Allegri L,Ghiggeri GM.

Glomerular autoimmune multicomponents of human lupus nephritis in vivo: α-enolase and annexin AI. J Am Soc Nephrol. 2014 Nov;25(11):2483-98.

Antoniali G, Lirussi L, D'Ambrosio C, Dal Piaz F, Vascotto C, Casarano E,Marasco D, Scaloni A, Fogolari F, Tell G. SIRT1 gene expression upon genotoxic damage is regulated by APE1 through nCaRE-promoter elements. Mol Biol Cell. 2014 Feb;25(4):532-47.

Arena S, Salzano AM, Renzone G, D'Ambrosio C, Scaloni A. Non-enzymatic glycation and glycoxidation protein products in foods and diseases: an interconnected, complex scenario fully open to innovative proteomic studies. Mass Spectrom Rev. 2014 Jan-Feb;33(1):49-77.

Lucci V, Di Palma T, D'Ambrosio C, Scaloni A, Zannini M. AMOTL2 interaction with TAZ causes the inhibition of surfactant proteins expression in lung cells.Gene. 2013 Oct 25;529(2):300-6.

Coppola V, Coppola M, Rocco M, Digilio MC, D'Ambrosio C, Renzone G, Martinelli R, Scaloni A, Pennacchio F, Rao R, Corrado G. Transcriptomic and protomi analysis of a compatible tomato-aphid interaction reveals a predominant salicylic acid-dependent plant response. BMC Genomics. 2013 Jul 29;14:515.
D'Agostino M, Lemma V, Chesi G, Stornaiuolo M, Cannata Serio M, D'Ambrosio C, Scaloni A, Polishchuk R, Bonatti S. The cytosolic chaperone α-crystallin B rescues folding and compartmentalization of misfolded multispan transmembrane proteins. J Cell Sci. 2013 Sep 15;126(Pt 18):4160-72.
Monteleone F, Rosa R, Vitale M, D'Ambrosio C, Succoio M, Formisano L, Nappi L, Romano MF, Scaloni A, Tortora G, Bianco R, Zambrano N. Increased anaerobic metabolism is a distinctive signature in a colorectal cancer cellular model of resistance to antiepidermal growth factor receptor antibody. Proteomics. 2013 Mar;13(5):866-77.
D'Ambrosio C, Arena S, Rocco M, Verrillo F, Novi G, Viscosi V, Marra M, Scaloni A. Proteomic analysis of apricot fruit during ripening.

J Proteomics.2013 Jan 14;78:39-57.

Lirussi L, Antoniali G, Vascotto C, D'Ambrosio C, Poletto M, Romanello M, Marasco D, Leone M, Quadrifoglio F, Bhakat KK, Scaloni A, Tell G. Nucleolar accumulation of APE1 depends on charged lysine residues that undergo acetylation upon genotoxic stress and modulate its BER activity in cells. Mol Biol Cell. 2012 Oct;23(20):4079-96.
Chiaradia E, Pepe M, Tartaglia M, Scoppetta F, D'Ambrosio C, Renzone G, Avellini L, Moriconi F, Gaiti A, Bertuglia A, Beccati F, Scaloni A. Gambling on putative biomarkers of osteoarthritis and osteochondrosis by equine synovial fluid proteomics. J Proteomics. 2012 Jul 19;75(14):4478-93.
Santucci L, Candiano G, Bruschi M, D'Ambrosio C, Petretto A, Scaloni A, Urbani A, Righetti PG, Ghiggeri GM.

Combinatorial peptide ligand libraries for the analysis of low-expression proteins: Validation for normal urine and definition of a first protein MAP. Proteomics. 2012 Feb;12(4-5):509-15.

Candiano G, Santucci L, Bruschi M, Petretto A, D'Ambrosio C, Scaloni A, Righetti PG, Ghiggeri GM.

"Cheek-to-cheek" urinary proteome profiling via combinatorial peptide ligand libraries: A novel, unexpected elution system. J Proteomics. 2012 Jan 4;75(3):796-805.

Spadaro G, D'Orio C, Genovese A, Galeotafiore A, D'Ambrosio C, Di Giovanni S, Vitale M, Capasso M, Lamberti V, Scaloni A, Marone G, Zambrano N. Proteomic analysis of sera from common variable immunodeficiency patients undergoing replacement intravenous immunoglobulin therapy. J Biomed Biotechnol. 2011;2011:706746.
Vascotto C, Bisetto E, Li M, Zeef LA, D'Ambrosio C, Domenis R, Comelli M, Delneri D, Scaloni A, Altieri F, Mavelli I, Quadrifoglio F, Kelley MR, Tell G. Knock-in reconstitution studies reveal an unexpected role of Cys-65 in regulating APE1/Ref-1 subcellular trafficking and function. Mol Biol Cell. 2011 Oct;22(20):3887-901.
Bernardini G, Laschi M, Serchi T, Arena S, D'Ambrosio C, Braconi D, Scaloni A, Santucci A. Mapping phosphoproteins in Neisseria meningitidis serogroup A. Proteomics.

2011 Apr;11(7):1351-8.